Assos Long Sleeve Skin Foil Early Winter_EVO7 Base Layer Block Black
Assos Long Sleeve Skin Foil Early Winter_EVO7 Base Layer Block Black
Brand: Assos
Availability:Out of stock
Shipping: WORLDWIDE
Have a question?
Size chart
Assos Skinfoil Size Guide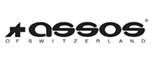 ASSOS clothing has a very slimming, anatomic cut. If your build is less than slim or if you like your fit looser, go up in size.
CHEST - Standard sizes that you would normally measure yourself against
| Skinfoil Size | Size (Male & Female) |
| --- | --- |
| 0 | XS/S |
| I | M |
| II | L - XL |
| III | XLG - TIR |
CYCLING LONG-SLEEVED BASE LAYER
A long-sleeved ASSOS skinFoil base layer is the ultimate foundation for early winter.
A crucial element of your early winter riding kit, a long-sleeved ASSOS skinFoil cycling base layer is designed to be the ultimate first layer underneath your ASSOS bibs and habu jacket for this cooler period of the cycling calendar. This breathable base layer for early winter riding benefits from a specific blend of moisture-wicking yarn and a long-sleeved design that renders it more than capable of joining you on early winter rides where the sun seems reluctant to rise, and the snow has already fallen on the higher passes. Crafted with our lustrous seamless construction and non-restrictive fit, this lightweight cycling base layer epitomizes our dedication to outfitting your entire cycling wardrobe for year-round riding. Bypassing the conventional approach, this race-tuned riding base layer is spun on tubular machines to increase comfort and elevate its performance. With a meticulously constructed blend of yarns and strategic body compression, this lightweight base layer has been engineered by our in-house fabric specialists and put through the wringer by our internal test teams so that it is able to react to your intensity of sweating and the subsequent cooling effect whatever the outside temperature. These are the sorts of performance gains that confirm why we state our cycling apparel is Equipment, Not Clothing.
The new skinfoils represent the genetic evolution of the outgoing line of ASSOS skinfoil baselayers. Based on our seamless tubular knitting technology, ASSOS skinfoil_s7 baselayers represent the inner core of the als, the Assos layering system. They are your next-to-skin first-layer product. without a properly fitting skinfoil, the rest of your outfit cannot perform to its full potential. When wearing ASSOS, always wear an original ASSOS baselayer with it - it's the only way to maximize the ASSOS total comfort experience.
als Climarange
The general direction in ASSOS is toward reducing the seven climarange outfits to four. this is possible thanks to the ultimate in technology and intelligence, which we are utilizing to increase the action radius of our fabrics, creating textiles that work in a wider temperature range. This new ASSOS baselayer family has been engineered with just this reduction in mind - less is more.
earlyWinter construction: Reduced volume and meticulously calibrated insulating effect. seamless tubular knitting technology polypropylene fiber blend regularFit / unisex
Perfect baselayer
Breathable, warm and great fit without be suffocating. A great base and better than merino wool ones I've been using from another brand
High quality from Assos
A number of Assos products and this one continues at the same level
概ね満足
当方182cm,95kgでサイズⅢを購入。思っていたより丈が短かい。自転車用のベースレイヤーなのでもう少し長くてもいい気がする。ただ、価格にはとても満足しています。
If you find a product cheaper somewhere else before purchase then please let us know and we will do our upmost to match or beat the price for you.
Criteria For Price Match

- Item must be identical (Year, Model, Colour, Size, New).
- Item must be in-stock with the competitor at the time of price matching.
- Item must include delivery charge, if not then delivery charge will be added.
- Item must not be a multi buy offer i.e. (buy one get on free).
- A link to the item must be provided for clarification of the deal (Sorry but verbal quotes & club discount deals will not be accepted. The deal has to be available to the general public).
- We will not match any auction prices, including items listed on sites such as Ebay.
- Black Friday Deals are not included in the Price Match.
- We will not match a price after a purchase has been made or payment processed.
- Please note that price match cannot be used in conjunction with any other promotional offer or offer codes.
- All price match requests that are approved will have an expiry date.
- We retain the right to decline any price match request.
- This policy is subject to change without notice.
How much will delivery cost?
The cost of delivery is calculated based on a number of variables including; destination, weight and service type. The final delivery cost will be displayed in the checkout.
What delivery method do we use?
UK
For UK orders we use Royal Mail, FedEx or TNT. Our Standard service uses Royal Mail 48 Signature. With our Standard service orders should take 1-2 working days to process and 2-3 days to arrive for most of the UK mainland. Bikes may take longer if they need to be built up in advance. Delivery times may be extended depending on where you live. A signature will be required upon delivery. Prices vary according to basket size. Some low value items will be sent out with Royal Mail 48 and will not require a signature upon delivery. We also offer a Royal Mail 1st Class Delivery service. Orders take the same time to be dispatched but will be sent with Royal Mail 24 Signature and delivery is usually 1-2 days within the UK mainland. Our priority service uses FedEx Next Working Day. Orders are tracked and a signature is required upon delivery. With the exception of bikes, and pre-orders, orders before 2pm will be processed and dispatched the same working day and arrive the following working day to most of the mainland UK.Orders may be upgraded automatically to our FedEx service depending on weight and value of an order.
International
For international delivery we use Royal Mail, Spring or FedEx. Prices will depend on your basket size and postage destination. Orders will be dispatched as soon as possible after we receive your order. With the exception of bikes, and pre-orders, orders before 2pm will be dispatched the same working day and typically arrive within 2-7 days in Europe, depending on the service you choose at checkout. For further details see worldwide delivery times below.
Delivering to your address
Once an order has been processed the delivery address for that order cannot be changed. Please provide us with a delivery address where there will be someone in to sign for your parcel. If there is nobody in when the couriers call they will leave a card. You can phone them to arrange delivery for another day or collect your goods from your local depot. Please be aware that if you request that goods be left safe via the courier notes, bikeZaar cannot claim for missing items or damage to your parcel. As a result, in the event of an absence, we strongly recommend that you collect your parcel from a local depot or instruct the courier to leave your parcel with a trusted neighbour. Some couriers will not deliver to a PO Box. All orders addressed to a PO Box will be sent out with Royal Mail.
Worldwide Delivery
We have a Royal Mail, Spring and FedEx service for international orders. Our Royal Mail International delivery uses either Royal Mail Int Signed or Royal Mail Int Tracked*. With the exception of bikes and pre-orders, your order should take 1-2 days to process and be dispatched and usually arrives within 3-5 days to Europe and 5-7 days to the rest of the world. Please note this service may require a signature upon delivery. With our Spring and FedEx service, orders will be processed as soon as possible after your order has been received. With the exception of bikes and pre-orders, orders before 2pm will be dispatched the same working day and will be fully tracked until delivery, where a signature will be required.
Approximate delivery times are indicated in the checkout. Our Spring service is the most cost effective but delivery times are likely to be longer. FedEx timescales are typically:
USA, Canada and Europe 2-5 days.
South America, Asia, the Middle East and India 4-7 days.
Africa and Oceania 3-7 days.
Please Note: Some more remote locations are classed as "out or area," and as such will take slightly longer to deliver.
How quickly will my orders be dispatched?
With the exception of bikes and pre-orders, orders received before 2pm will be sent the same working day, otherwise your order will be despatched the next working day.
Can all items be despatched worldwide?
We ship most items worldwide although some are restricted depending on the exact shipping destination.
The following products usually have shipping restrictions:
• Bikes
• Energy drink, food and gels
• Liquids
• Products that contain aerosols
Will I have to pay customs charges in my country?
Shipments sent outside the United Kingdom, are sold exclusive of VAT and may be subject to import duties and taxes, which may be levied once a shipment reaches your country.
EU: From 1st January 2021, any purchases made online for delivery to addresses within the European Union will not be subject to UK VAT and may be subject to import duties and taxes, which may be levied once a shipment reaches your country.
Please note: It is a legal requirement that we declare the full value of the goods (not including the shipping charges) on all packages destined outside the United Kingdom. It is a criminal offence to falsify the details on this form. We cannot inaccurately describe contents, claim a lower value or mark as a gift. Please do not ask, or expect us to do any of the above. For details of customs charges please consult with your own customs authorities for the latest rates.
USA Customs and Import Duty
All goods shipped to the USA & Canada are liable for import duty and taxes. This amount varies depending on the destination state and the type of goods ordered. There are many online duty calculators that can help you estimate what these charges will be. Alternatively please consult your local customs office or drop us an email.
When you goods arrive at US customs you may be asked to provide the required registration / identification numbers for clearance (example include EIN, SSN, VAT, GST, RFC, etc.)Please Note: Anyone who buys goods from abroad is classed as an "importer," whether the goods are for commercial resale or personal use.
Effective from March 10th 2016, United States Customs and Border Protection has raised the import de minimis limit from $200 to $800. This is the value of a shipment of merchandise, imported by one person on one day, that may be imported free of duties and taxes and without the need of a customs declaration.
Cycle to Work (Only Available In The UK)
Buying your bike, cycle clothing and accessories through the Cycle to Work scheme can save you up to 42% of the cost…that's a huge saving! Further still, you pay nothing up front and can spread the cost of your new bike and/or kit in equal monthly instalments which is automatically deducted from your salary before income tax and National Insurance contributions.
"The cycle to work scheme is fantastic, saving you money whilst supporting a healthier lifestyle. Fresh air and physical activity are proven to improve health and mental well-being, and of course also helps to reduce our carbon footprint. Convert the time you lose commuting every day into exercise time." Alistair Brownlee MBE
For more information, click here